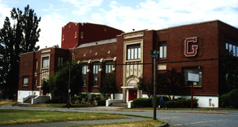 Dear Parent / Guardians;
Behavior Rules and Expectations
Behavior and cooperation are an essential part of this class. Students who cannot follow the classroom and school rules will receive a verbal warning first. If the behavior continues, their name will be placed on the board and separated from the group or lab activity, until they can behave. If the student still demonstrates negative behavior they will receive lunch detention or after school detention. I believe that growing as adults, each student needs to start taking responsibility for their own actions. If this problem persists and the student needs additional help, I will notify parent for a phone or in person with a conference. Your student and the safety of the class are my primary concern. I would like to provide a safe and fun environment for everyone.
Classroom Rules
BE POSITIVE AND ON TIME!

KEEP YOUR HANDS TO YOURSELF, AND USE COMMON SENSE.

BE IN YOUR SEAT BEFORE THE TARDY BELL RINGS WITH ALL MATERIALS NEEDED FOR CLASS.

DRESS ACCORDING TO SCHOOL RULES.

NO BATHROOM PASSES WILL BE ISSUED UNLESS IT IS AN EMERGENCY.

NO FOOD WILL BE ALLOWED IN CLASS, SPECIFICALLY GUM!!!
Materials Needed
Your student will need the following materials for my class:
A suitable writing instrument (pencil or pen; dark blue or black ink)
Colored pencils
3 ring binder with paper
Make sure that your studentís name is clearly marked on all materials. The students will be expected to bring their material to science class each day. All assignments and notes will be expected to stay in the binders unless the student takes them home or is turning them in. The student will be responsible to keep track of all returned work in their binders. I will be collecting the notebooks to grade assignments from time to time. I grade on a point system for each assignment, points vary depending on the assignment. Points run on a scale of 10 to 100.
Curriculum and Assignment Expectations
The students will be taught the seventh grade curriculum from their grade level text and hands on lab activities. The student will be graded on class participation, in class work, homework, labs, notebook, tests, and quizzes. All assignments will be due on the date assigned and all late work will only be accepted 3 days after the due date for half credit. Anything after that receives a 0. There will be no exceptions, unless prior arrangements have been made. Any students that miss labs, tests, or work due to illness are responsible to make up the work on their own time and see me for due date time for each assignment. The students will be given extra credit assignments in class or from my web site. This is optional. I will also give each student a progress report at the third week of each month or quarter. The student's grades will be posted two weeks prior to all grading periods, so that they will be aware of all missing work. All progress reports will be given to the student to share with their parents. Itís the responsibility of each student to share them with their parent (s) or guardian. I feel that it is my job to help students to succeed and together we can make it happen.
Grading System
I grade on a point system.
A = Super Job!! 95-100%
A- = Great Job!! 90-94%
B+ = Nice Job! 85-89%
B = Good Job! 83-84%
B- = Good? 80-82%
C+ = OK Job! 77-79%
C = OK! 75-76%
C- = OK - Careful 70-74%
D = Ouch! See me for help. 60-69%
F = Kboom!! Try again one more time.
How to reach me.
Thank you for your time and cooperation. If you would like to visit or help in class, please feel free to come and see me. Extra help is always welcome. If you feel you need to a conference or have any questions pleases call me (571-1860) at Gray Middle School. I also can be reached by e-mail (andrewntami@earthlink.net). I am available during the week from 7:15-7:50 in the mornings or 2:24 - 2:45 in the afternoons.
Thank you,
Ms. Van Sickle
Mrs. Tamara Van Sickle
Gray Middle School
7th Grade Science
Room 212
253-571-1860